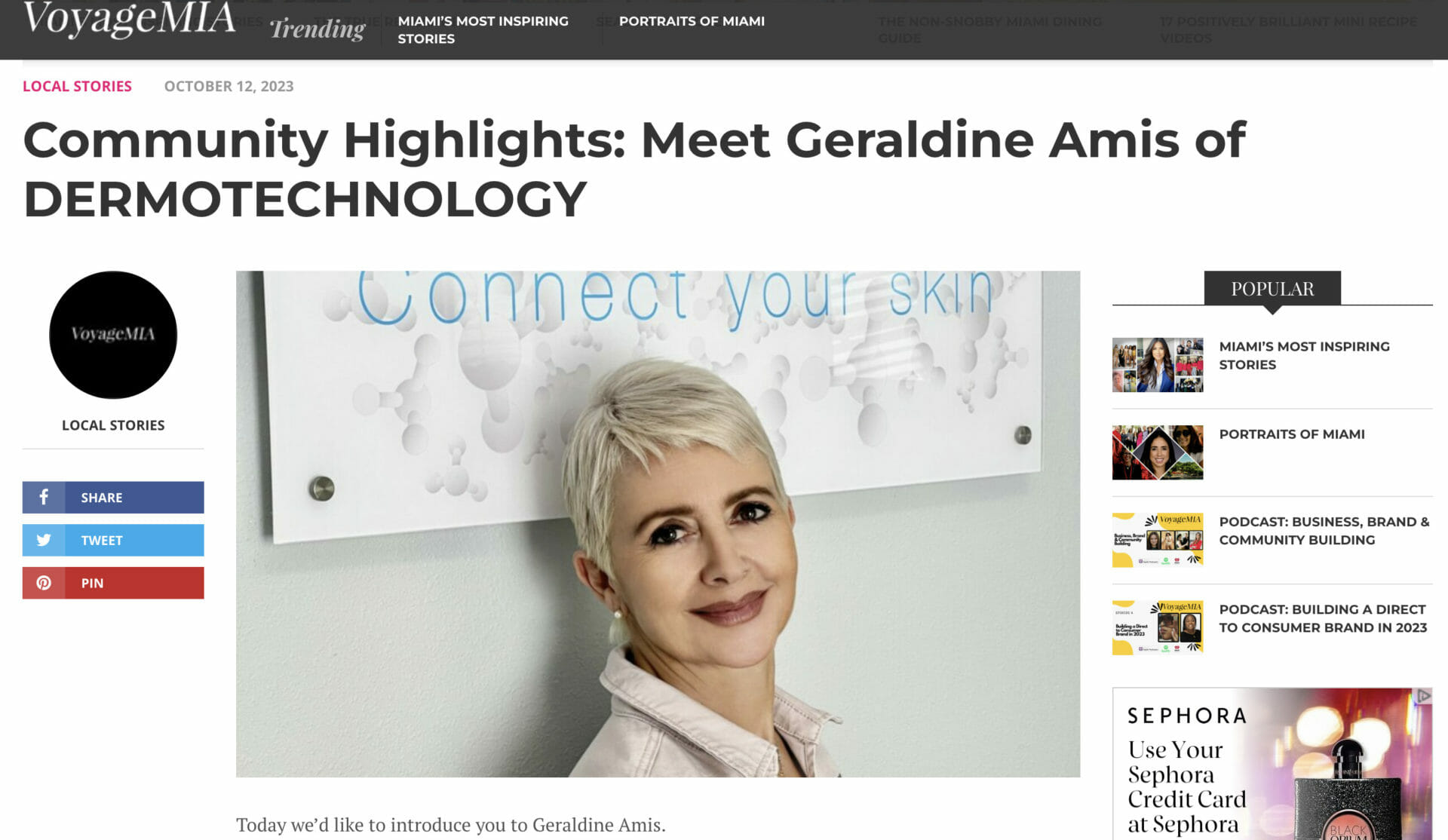 https://voyagemia.com/interview/community-highlights-meet-geraldine-amis-of-dermotechnology/
Hi Geraldine, can you start by introducing yourself? We'd love to learn more about how you got to where you are today.
I started as an aesthetician in 1988 after my two-year college graduation in Paris, and very quickly, after a few years, I felt that I was missing the scientific side of it. I loved to practice doing hand massages, but with my background working with my father at his perfume and cosmetic factory for all my summer vacations, it wasn't enough!
I was attracted to the skin devices and technologies and how the skin reacts to technical stimulations. I wanted more about the skin results and how we can improve faster than with hand results. I started to experience the position of head beauty therapist and then spa manager with Steiner, working on cruise ships in the early nighties for five five-year contracts. And then, back to France in an emergency from the USA 1998 for a severe health disease, legionellosis. It took me two years to recover from this health issue, leaving me with lung damage for life.
I searched for an international position to travel, and after three months of the interview with LPG System (The Endermologie), I've been chosen between 1000 resumes to create the LPG new protocols for face and body for the new machines at the time of the Cell M6 and the Lift 6!
It was terrific because I discovered that I was hired because of my natural ability to analyze and discern the technology working on the skin and how to improve it to create the best results. I worked with the engineers, the clinical department doing clinical research, the marketing department for the branding, and the sales department to give the sales what was marking the difference with the other technologies on the market. I realized this was my passion, and working on machine protocols was precisely what I was made for in the beauty and medical fields. I never stopped working for notorious French companies as a product developer, making device protocols, improving the machines, and looking to train the trainers and the sales persons to prove the best of it.
After starting cancer in June 2006 to heal myself and take a break, I finally returned to the beauty field in June 2007 with a position as a sales representative. This was the first time I was learning how to sell, and I was in the most prominent company selling all types of technology, such as pulsated light, LED, RF, Cocoon, Cavitation, UV beds, dermabrasion, and Laser…I was over-stressed after seven years of driving more than 60000 miles a year, raising my son alone. I had a significant breakdown and faced a deep depression.
I woke up one morning, my face all puffy and saggy, my eyes so marked and tired; in one month of depression, my skin was loose; I was entering following the mental shocks in pre-menopause. I acknowledged that my body couldn't fight this sudden aging process, and I started wondering what I could do other than taking vitamins and applying creams to my neck and face to fight aging efficiently. I had no sort of energy; my body was so down!
I met Laurent, my husband, at the last tradeshow in Paris with this company in March 2011 before we decided to quilt our respective jobs to make our skin concept.
I could not walk some days impacted by the fibromyalgia; the stress was probably making it worse, and my muscles were so stiff that the pain was almost unbearable.
I couldn't put my socks and shoes on. 6 months later; we received the prototype of our first device, the ElectroLift, and then the New digital version in 2018-2020 with the Patented Silver mask named the DERMOTECHNOLOGY Concept.
I couldn't believe what I felt after one test session and how my skin looked the following day of the treatment of 20 min! After my six sessions of therapy for 20 min, I understood how these frequencies were awakening and energizing my skin; it was just marvelous and unreal at the same time. I started pushing myself to go to the gym and began Yoga despite the muscle pain. And the more I routinely did it, the more I regained flexibility and energy!
I realized again that my health and body could be reshaped with more physical activity and the best diet. I was convinced I had to apply the same philosophy and understanding to my skin; my skin needed to be modeled, touched, and deeply nourished from within with the best natural active nutrients, and I was that the truth was working out my skin as I worked out my body to look younger! The external stimulation is as essential as internal signals; the micro-currents bring energy to our skin cells, and the frequency vibrations tone our body, neck, and facial muscles. How can you fight the gravity attraction without working out your strengths?
There is no way that your body can be appropriately reshaped without physical activity, so it is the same for your neck and face muscles. DERMOTECHNOLOGY is the natural alternative to injectables or its best friend because it does what injectables cannot do. It feeds your skin from within, improving your skin texture tone, lifting contour with no downtime and no harmful side effects, working naturally in harmony with your body energy, not calling your immune system, a positive way of looking at a progressive rejuvenation with relaxation. This is now 11 years since the DERMOTECHNOLOGY Concept was born, as I was looking for a natural solution to solve the roots of the problem of all skin concerns for all skin types.
We all face challenges, but looking back would you describe it as a relatively smooth road?
It is not a smooth road because you are always looking for the best and perfection. You are very demanding of yourself and want to offer the best to your clientele who trust you. So, you imagine, innovate, create, and teach to share your vision and new skin philosophy.
We'd be interested to hear your thoughts on luck and what role, if any, you feel it's played for you.
I don't believe in luck, hard work, and chasing your dream with faith and conviction.
Pricing:
$150 Skin Essential
$190 Skin Calm Purifying
$190 Hyperpigmentation
$220 Instant FaceLift
$350 Skin 0 Gravity