RESPONSIBLE BEAUTY
Multifunctional & Unisex
A CLINICAL APPROACH WITH NATURAL BIO ACTIVES

Free Paraben, silicone, coloring, artificial fragrance, surfactants, alcohol
NO tested on animals, NO component of animal origin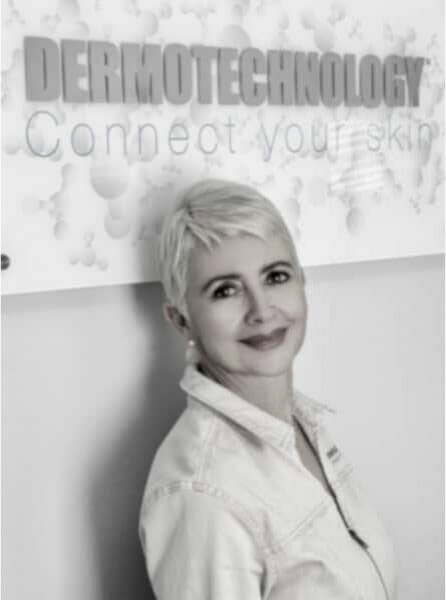 MULTIFUNCTIONAL & UNISEX COSMETICS
Nowadays, most Cosmetics are gendered and uniquely adapted to a particular type of skin. Geraldine Peri set herself the challenge of upsetting these codes by creating a range of multifunctional Cosmetics, Unisex, with simple and effective skincare protocols, whatever the concerns or types of skin.
With the help of a Scientific Laboratory and Her Father Perfumer since 1965, Mr Richard Peri, graduate in chemistry-biology; She has developed a range of 12 Cosmetics (creams, serums, gels, masks), and a range of 9 face and body serums.
Created by two Beauty passionates, the DERMOTECHNOLOGY Cosmetics range combines scientific rigor with a long-standing fascination with herbalist traditions and the uses of Natural Chemicals.
DERMOTECHNOLOGY cosmetics have a light and non-greasy micronized texture (aqueous base) for optimal and immediate permeability of bioactive components in the heart of the skin.
With the daily use of DERMOTECHNOLOGY cosmetics, based on ingredients of natural antioxidants, vitamins, amino acids, hyaluronic acid, the skin is regenerated and revitalized to look younger.
DERMOTECHNOLOGY cosmetics have been designed to prevent and act against skin aging by reinforcing its structure for a visible improvement of the skin texture as well as the touch. To further optimize and perfect your facial, neckline and body results; It is strongly recommended to combine your daily DERMOTECHNOLOGY care routine with the effectiveness of our natural bio-active serums.
COSMETICS