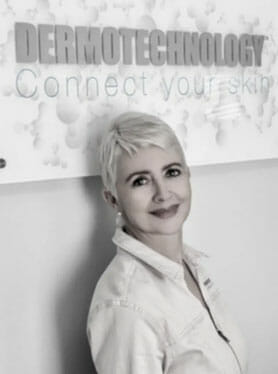 Geraldine Peri Amis Founder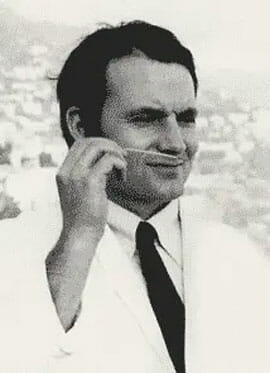 Richard PERI Chemist-Perfumer. Father 1939-2020
A PASSIONATE
ENTREPRENEUR
Behind DERMOTECHNOLOGY is hiding a passionate entrepreneur: Géraldine Peri Amis. At this time, she has more than 30 years of experience in aesthetics as 5 stars Spa Manager, Training Director, Product Manager, or even Commercial for the biggest international beauty brands. Her expertise and personal experience set her up to revolutionize the anti-aging market with a unique concept!
DERMOTECHNOLOGY CONCEPT SINCE 2012
View our Story

Her PASSION 
Géraldine gets her passion from Richard PERI, her Chemist-Perfumer father. When she was a child, he used to take her to his laboratory in Grasse to convey his love for his job. There, they shared beautiful moments of complicity between formulas, mosses, resinoids, flowers' essences, and the copper stills. It is therefore natural that every summer, from the age of 14, Géraldine put on the lab coat to assist Richard.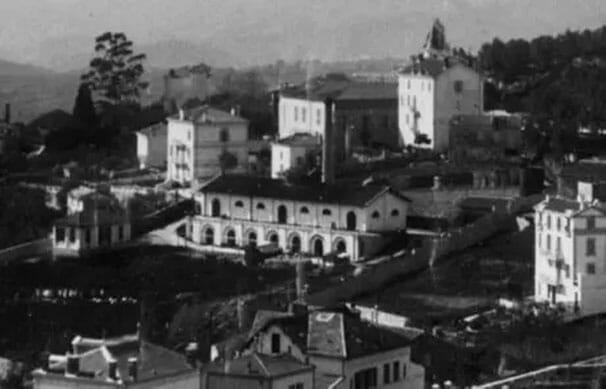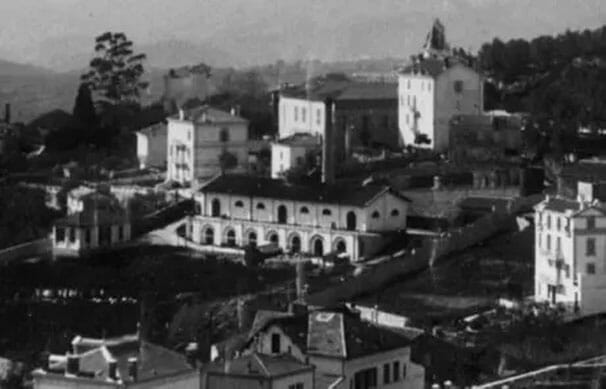 Her Father 
Very admirative of her father, she wanted more than anything to follow in his footsteps but her deficiencies in mathematics prevented her from entering perfume school. She, therefore, turned to aesthetic studies at the Notorious International Marbeuf School, located in Paris. In 1988, she became a certified Cosmetician-Aesthetician. Since then, she hasn't stopped accumulating international certifications and brilliantly practicing in this field by holding several key positions.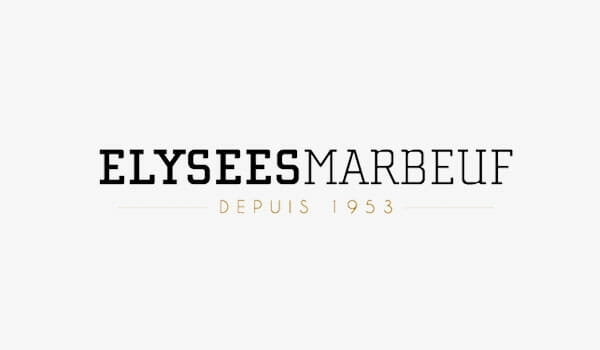 The Concept
In 2011, at the age of 45, Géraldine felt the first premise of aging and menopause: weight gain, sagging facial features, lack of energy,… In only a year, she was transformed and no longer recognized herself. Remarks about her bad looks really accentuated her ill-being.
Like many women at this time, she began to consider going through cosmetic surgery, injections, or any other radical method that could help her regain her appearance instantly. She even went so far as to meet several surgeons. But risks and dangers involved and their potential consequences have triggered many fears. Was her face going to change too much? Was she going to lose expression? Wasn't she going to lose her identity after the operation?
The Botox Alternative
Certainly, these radical methods offered immediate results but they would have damaged her skin and were not durable. Once you start this type of intervention, it is inevitable to continue and their high cost should not be overlooked. She therefore quickly gave up these solutions which were not in accordance with her philosophy of life.
DERMOTECHNOLOGY
This is where her dream of starting out and creating a concept came to life. In November 2011, she left her position as Product Manager for an international brand to start her project. After all, if she could create aesthetic protocols for a business, she could also do it on her own. Geraldine wanted to fight against skin problems with a natural, non-invasive, personalized, and painless solution. Then she had the idea of ​​adapting her lifestyle to her concept. Indeed, she was convinced that a healthy diet combined with a sports routine led to reshaping your body. So why wouldn't this logic work rebuild our skin?

A Unique Concept 
She, therefore, used all the skills acquired during her career to creating a device for doing "Face-gym". In addition, she also developed her own range of cosmetics and serums to nourish the skin from the inside, by cells' osmosis, according to its needs.
After only 5 treatments once a week with her first device prototype and using her products daily, Géraldines has seen the effects of time reverse! This revolutionary biotechnology offered spectacular results. Her only desire was to share her discovery in order to share it with people who had skin problems. This is how DERMOTECHNOLOGY was born in March 2012!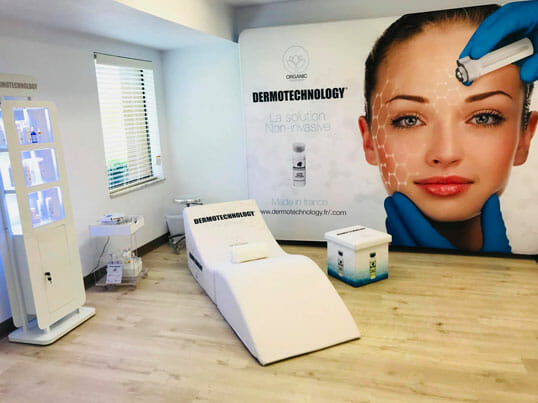 In 2018, she released the second version of her device, refining her concept with the silver mask. That same year, she filed an international patent with the French national INPI for these two new products.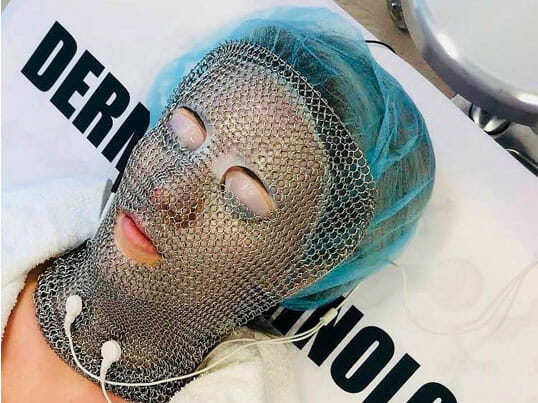 In March 2020,
Richard's state of health deteriorated sharply. To pay a final tribute to the one who inspired her so much throughout her career, she decided to create three new products. He died a few weeks later, on April 11th, after discovering his daughter's latest inventions. Seeing the pride in her father's eyes comforted and motivated her to continue working to further improve his concept.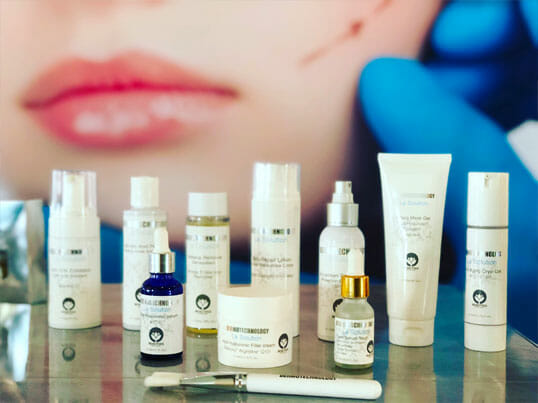 Today, staying a "niche brand" is essential for Géraldine. It is a way to encourage proximity and maintain her ethics. Thanks to her holistic approach combined with clinical protocols, Géraldine is proud to be able to offer personalized skincare worldwide, thanks to her valued partners!
Meet Geraldine Our Story