How it started
The CONCEPT
Firstly, DERMOTECHNOLOGY Concept was born in March 2012. It is an Innovative, Scientifically proven French Technology that actively participates in the skin rejuvenating with Non Invasive Anti-Aging skincare. It uses 7 different Micro-currents combined with the Electroporation Method in a Professional and High-Tech Device. In addition, the Chemistry Nobel Prize in Electroporation was awarded in 2003 to two American physicists in the USA.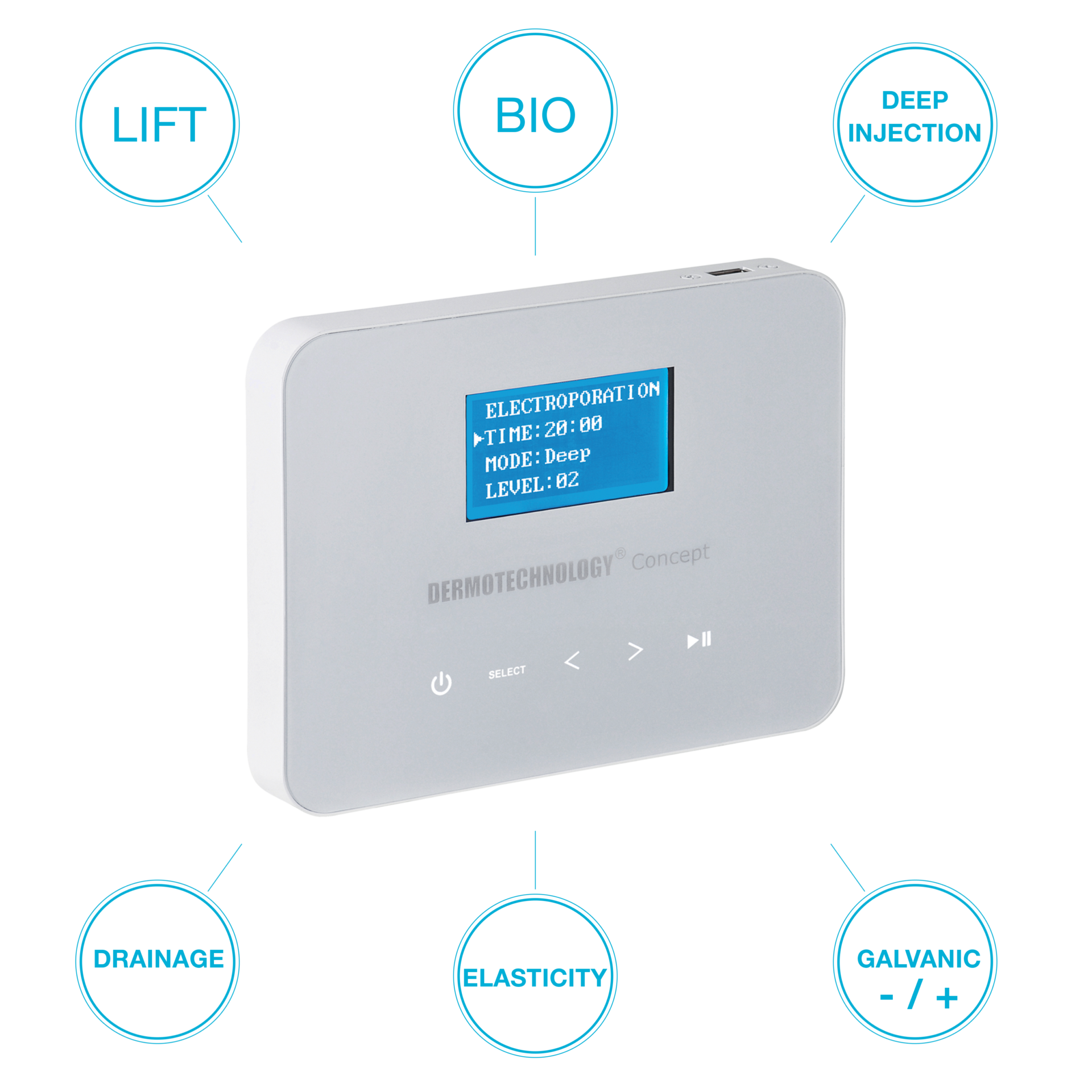 How does it work
A UNIQUE Technology
This Technology creates an Electro-Permeabilization of Skin Cells. As a result, it ensures an optimal penetration of our Naturals Serums to nourich the skin. Those are filled with nutrients such as Amino Acids, Vitamins, Trace Minerals, PlantStem Cells and Hyaluronic Acid. Moreover, DERMOTECHNOLOGY Concept works without any Shock or Thermal Stressors to the body and offer instant, Progressive and Long-lasting results.
ADVANTAGES OF DERMOTECHNOLOGY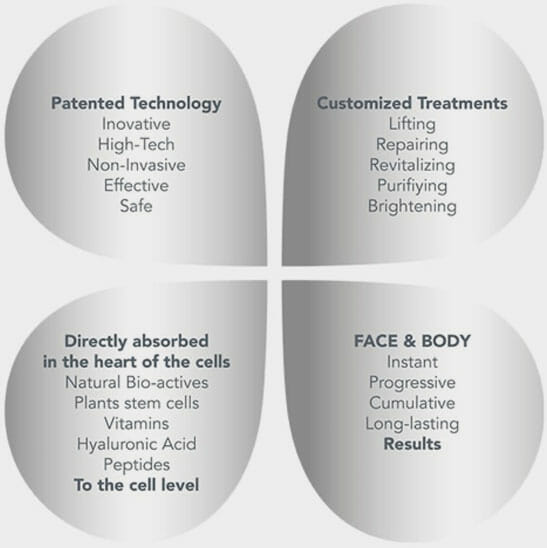 Exclusive, UNIQUE, PATENTED, High Tech Concept
Professional only
Insurable and reliable
Maintenance not needed
Works 24hrs/7days
Produces No heat, No noise
2-year Warranty
Ergonomic Design and Use
Multi-tasking machine
Hands-Free simultaneous unisex advanced
skincare
For all skin types and all ethnicities
Training Certifications
Advanced European face & body protocols
Safely combines (same session) with any other technology (Micro-needling, Laser, Radio
Frequency)
Safely combined with any injectable
Ask for your territorial exclusivity
BE THE FIRST In Your Location! Mark the difference
Non-Invasive Face-workouts with the right skin nutrition
Acts from the inside out to all cells level, 100% Safe
Best natural alternative to Botox
Stimulate, relax and target the forgotten 40+ face muscles
No downtime, Painless, Needleless
Customized treatments to address any types of skin, concerns and ethnies
Instant non-surgical facelift
Naturally instant, progressive and cumulative results
TONE LIFT CONTOUR
Increases firmness and elasticity
Improves the skin texture
Minimizes pore appearance
Enhances skin brightness and corrects unwanted tones
Safe for eyelids/eye-area (eyelift)
Safely combined with any injectable (Alternative or the ideal complement)
Targets face and body zones (Head to Toe, scalp included)
DERMOTECHNOLOGY
ACCESSORIES
BETTER & REAL RESULTS!
"Thanks to DERMOTECHNOLOGY Concept. I finally look younger, I've what I expected, my skin feels natural, fresh and revived."
Joelle Cornet
"Wow, this is nothing that I have never experienced before! I have never seen anything like this in the US!"
LYNETTE
"My skin now is hydrated and softened, and I feel comfortable. It's like I had a good workout, and now my muscles feel great."
Yulia

Previous Next
VIEW ALL VIDEOS
Dermotechnology CONCEPT